Poultry Wire Fences
Poultry wire fences mainly refer to wire netting and fences for chicken, rabbit, bird and other animals.
It is made of hexagonal wire netting chiefly, it is also called chicken fence or chicken wire.
Poultry netting (chicken wire) is available in stainless steel, heavy galvanized wire or carbon steel wire.
Sizes of poultry netting vary according to the customers requirements.
Poultry netting can be supplied in rolls or in the form of wire netting containers.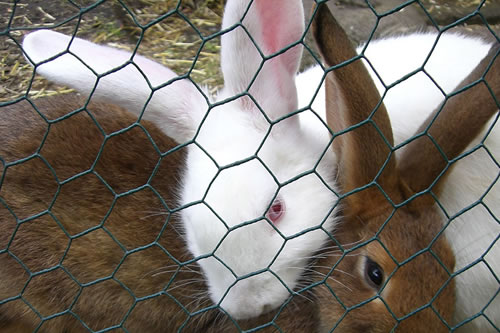 Uses: Hexagonal wire netting is mainly used in making of poultry netting, chicken wire or rabbit netting fences for the breeding of chicken, rabbit, bird or other animals, also pest-resistant garden barriers. Hexagonal wire netting is also great for arts and crafts.
Poultry farmers, pet owners and gardeners will appreciate how easy it is to use hexagonal wire mesh to construct poultry and pet pens, or to build pest-resistant garden barriers.
Poutry netting fences variety: Galvanized poultry netting, plastic coated poultry netting, etc.
The uniform hexagon mesh is reinforced with supplemental horizontal wires, so fencing, pens and barriers stay straight and upright.
The poultry wire fence is galvanized before weaving to last longer and resist rust and corrosion. The hexagonal wire netting is easier to handle because of its normal twist and reverse twisted weave.
Hexagonal Wire Netting for Poultry Wire Fencing:
Straight twist hexagonal mesh;
Reverse twist hexagonal mesh;
Straight and reverse twisted hexagonal wire netting;
Heavy galvanized hexagonal mesh;
Copper coated hexagonal wire netting.