Wire Mesh Partitions
We supply wire mesh partitions made of woven wire or welded wire for customers. Our wire mesh partition can be used in a wide variety of applications such as manufacturing warehouse security, tools cribs, robotic work cells and automation perimeter guarding, vertical life enclosures, system storage lockers, and pharmaceutical enclosures.
Wire mesh partitions offer a formidable wire barrier to intruders, while allowing the free passage and ventilation system.

With modular wire mesh panels, we can accomplish any layout of wire partitions for our customers. Wire mesh partitions can be made with wire fabrics of welded wire mesh, expanded metal mesh, perforated metal and woven wire mesh fabrics.

Materials: Galvanized steel, carbon steel or plastic coated wire.
Wire mesh partitions are supplied in the form of sheets.
Wire fabric opening: Diamond mesh or square mesh.
Wire Partition Features:
Easy operation;
Light in weight;
A long service life;
Interchangeable.

Wire mesh partitions are available in standard widths of 1, 2, 3, 4,
and 5 feet, with height of 7, 8, 9, 10, and 12 feet.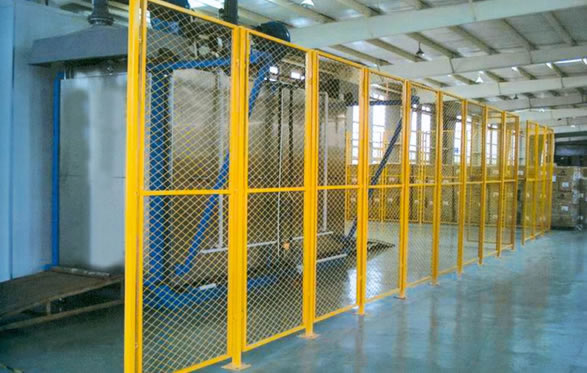 For sizing and pricing of our wire mesh partitions, contact us.