High Tensile Wire Fence
Woven wire fences made of galvanized steel wire offer high tensile in uses.
The electro galvanizing of the iron wire adds better rust resistance.
Lighter weight makes high tensile wire fences easier to handle and install. Plus, it allows wider spacing of fence posts.
High tensile wire fence makes a popular replacement for old fashioned barbed wire because of many advancements and advantages. High tensile wire fence has the same linear strength but with half the weight of standard barbed wire. Its reverse twist and higher carbon steel reduce maintenance. With the added protection of galvanizing, woven wire fences look good while armed to combat rust.
High tensile wire fences are used for protection and isolation for road, railway, airport, residence district, seaport, garden, feeding and husbandry.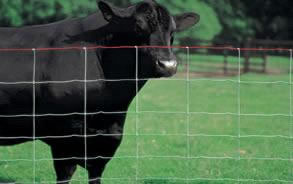 Field Fence/grassland fence/animal fence Mesh size:
mesh width:9,9,10,11,13,14,15,18,20,23,23cm
Mesh length: 15-80cm

High tensile galvanized sharp razor barbed wire for security fence
Razor wire is made with hot-dipped galvanized sheet or stainless steel sheet to perforate the sharp blade and high tension galvanized steel wire or stainless steel wire as core wire. With the unique shape, razor wire is not easy to touch, and get the excellent protection. Razor wire fence as a new type of protection fence, is made of straight-blade netting welded together.
Used in many high security applications, It is typically found in gardens, hospitals, industrial and mining enterprises, prisons, border posts, detention centers, governments buildings or other security facilities. Also used for division of railways, highways, etc, as well as agricultural fencing.