Aluminum Chain Link Fence
Aluminum chain link fence is one of the most popular chain link mesh fabrics with the features of corrosion resistance, lightness, pleasing appearance, and minimum maintenance requirements.
This type of chain link fence is both structural as well as decorative. It provides permanent, maintenance free enclosures, and protective barriers in keeping with contemporary design requirements. Chain link fence made of aluminum has a natural, trim beauty that is difficult to attain with other fencing material.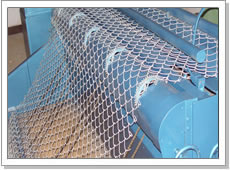 Advantages of Using Aluminum Chain Link Fence instead of Galvanized Chain Link Fences:
1.Aluminum fence offers inherent resistance in harsh industrial and seacoast atmospheres that cause rapid deterioration in most other metals.
2. Aluminum fence saves maintenance cost: Since painting is unnecessary for aluminum chain link fence, users can save the maintenance cost. This has become the major factor in the overall cost of a wire fence, as maintenance costs have risen steadily each year.
3. Aluminum fence are high strength installations and can be relied upon under the hardest usage. They resist strains and impacts, often more satisfactorily than traditional materials.
4. Chain link fence of aluminum is entirely salvageable - fence locations can be changed, if necessary, and all components re-used, even after a fence has been installed for years.
For sizing and pricing of our aluminum chain link fence, contact us.
Aluminum Chain Link Fence usually used as decorative mesh.
Decorative Aluminium Woven Chain Metal Curtain Mesh

Top class decorative vertical blinds aluminum chain curtain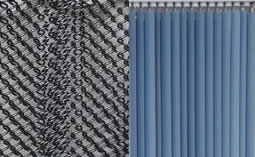 Aluminum chain link curtain for Space Divider and Decoration


Decorative aluminum security chain curtains for home decor