Chain Link Fence Machine
We supply:
Multi-Function Chain Link Fence Machine
Semi-Automatic NC Chain Link Machine
Full-Automatic Chain Link Fence Machine
Main parameter of fullautomatic chain link fence machine for making of variou chain link mesh type fabrics.
1.Width scope of weaving: 1-4m
Wire scope of weaving: 2-4mm
Mesh scope of weaving: 30-100mm
With 3 sets of mesh model at buyer's requirements
2.The machine is controlled by PLC automatic controller, so only one person is needed to operate it
3.The output per minute: for example: If the mesh is 50x50mm, width: 2m, the output will be: 1M2 min.
4.Suitable wire to the machine: the tensile scope of the wire 300-500N/M2
5.Use compacting machine to make it into rolls
6.Total power of equipment 11kw
7.Weight of equipment: 4200kg
8.Outside size: main machine: 6700x1430x1800mm.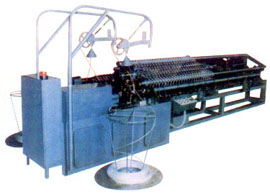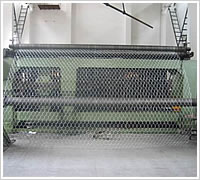 The Multi-function Chain link fence machine adopt the principle of weaving double wire , though the production efficiency is high and the quality of mesh sheet is reliable. The machine design is reasonable, control by the microcomputer and integration. Automatically complete the spinning, cut, working procedure and volume net, border closing. The advanced import craft, the domestically produced machinery. And the mesh width our machine can produce is from 2m to 6m.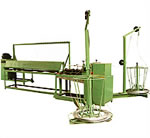 Semi-Automatic Chain Link Machine
Main technical parameters:
1.Dimension: length:2.9m width:0.57m height:0.85m
2.Maximum working platform:8000mm
3.Maximum weaving width:4.0m(Can be customized based on customer requirements)
4.Maximum wire diameter:4.0mm
Minimum wire diameter:1.0mm
5.Power:1.1KW
6.Productivity: 60-120 square meters / hour
7.Weight: 0.28T