Sports Fence
Chain Link Sports Fence for Standard Sports Field and Athletes Perimeter Fencing, Coated Green and Other Colors
Chain link fence is mainly as perimeter fence for standard professional courses covering basketball court, tennis courts, soccer fields and various sports. Also called playground fencing. Can be designed with framed panels and chain link gates.
Material types can be plastic mesh or metal galvanized mesh. The plastic mesh sports fence is usually green color plastic netting fence woven in diamond holes. The metal mesh for sports usually refers to green plastic coated chain link fence after galvanized. Other types of sports fencing including galvanized chain link, vinyl coated or stainless steel one are also available upon request.
Playground / Sports Fence Introduction:
Sports ground perimeter fence – covering tennis courts fence - basketball court fence – football court fence - soccer fencing - comes in the form of perimeter fencing and protective fencing to enhance the sports, and the fences are offered in diverse styles, constant new color patterns and long service life.
Sports Perimeter Fence Structures: Mesh fabric, frames, posts and accessories:
Example Project of Galvanized Green Painted Chain Link Sports Fence:
1. Coated wire diameter 3.8mm
2. Mesh 50mm X 50mm
3. Size: 3000mm X 4000mm
4. Vertical Post: diameter pipe 60/2.75mm
5. Horizontal Post: diameter welded steel pipe 60/2.75mm
6. Connection: Welding
7. Anticorrosion treatment: Anti-rust primer paint + advanced metallic paint.
Get a View of Perimeter Fences Types for Sports Fields, by Photos: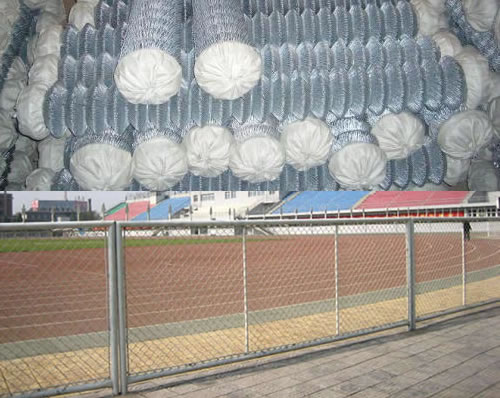 Galvanized Mesh Fence for Athletes Field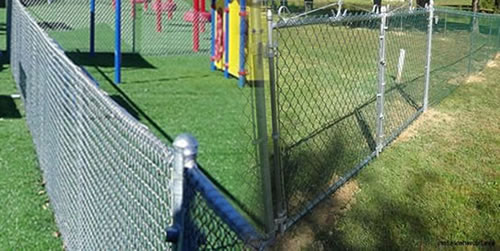 Playground Fence for Children School
We supply five chief types of sports perimeter fencing according to specific uses, listed as below.
Type 1: Tennis Court Sports Fencing
Lots of options for tennis sports fencing construction. A standard fence is 10' high, but 8' or 12' may be appropriate at times. The court can be fully enclosed with a high fence or sides can be left open or enclosed with a lower 3' or 4' fence. Corners can be a traditional 90 degrees or cut off diagonally. Support systems include wood (round cedar or pressure treated pine) or steel posts (galvanized or vinyl-bonded).
The fence fabric can be vinyl-bonded chain link, plastic netting or chicken wire.
We manufacture a specially designed 40x200mm tennis mesh which eliminates the possibility of tennis balls passing straight through the mesh. The wire centres are 10mm closer together than their standard 200x50mm mesh.


Vinyl Coated Netting for Tennis Court Sports
Type 2: PVC Coated Steel Athletes Sports Fencing
Material: PVC plastics and quality iron wire, galvanized iron wire, stainless iron wire etc.
Popular standard diameter: Inner wire diameter ф2.5mm × outer coated diameter ф3.8mm. Mesh 45mm × 45mm.
Colors: Common colors available for sports fencing are green, white and black. Other varieties of colors like blue, yellow, orange, gray, and red also are available at customer's requirements.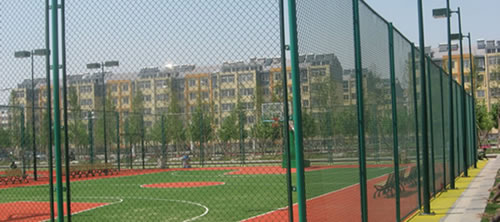 Green PVC Coated Steel Athletes Fencing
Type 3: Golf Perimeter Fencing
Golf perimeter fencing is a kind of plastic chain link mesh. It is inexpensive and durable. This plastic netting perimeter fence has properties of anti-corrosion, anti-aging, sunshine, weather and so on.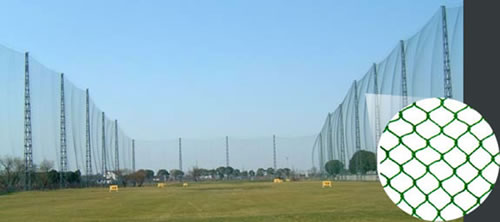 Plastic Chain Link Mesh Sports Fence
Type 4: Football Fencing
Chain link football perimeter fencing designed to keep the ball inside the area of play and to protect the public.
Advantages:
The product has bright color, full sizes and flat surface and good strength. It has the property of aging resistance, corrosion resistance and good flexibility.


Football Field Temporary Fence
Type 5: Basketball Perimeter Fencing: Supplied with Aluminized Steel and Plastic Coated Steel Mesh. Designed with chain link gates.
Designed to keep the ball inside the area of play and to protect the public. We supply various wire mesh fences for basketball sport fencing.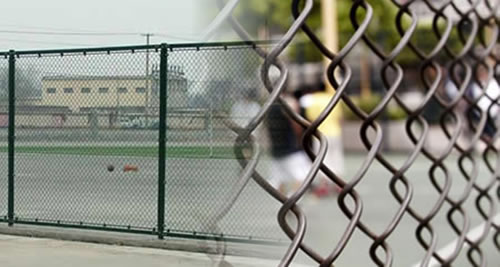 Basket Ball Play Ground Perimeter Fence with Chain Link Gates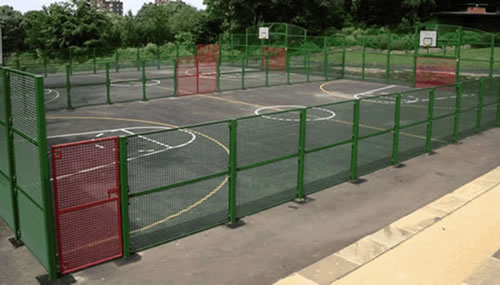 Plastic Coated Steel Welded Mesh Panels Sports Fence