Field Fence
Wire knotted woven field fence is a high tensile galvanized steel mesh fencing with graduated opening styles. The lower part of the wire fence has smaller holes while the upper part has growing bigger holes. This special structure is ideal for livestock raising perimeter fencing used in China and the world. Also used and named as cattle fence, deer fence, horse fence or ranch fencing. Two types: Knotted wire (hinge knotted and fixed knotted) woven mesh; the other is buckle type field fence. Steel wires used for field fencing can be with or without galvanizing. The galvanizing can be electro cold galvanizing or hot dipped zinc plated galvanizing.
Type 1: Hinge Knotted and Fixed Knotted Wire Field Fence for Pasture Perimeter:
The field perimeter fence is made by hot-dipped galvanized wire knotted together. The knot woven styles can be fixed knot or hinge knot. The tensile strength of crimped wire can be 1000 Newton and the weft wire tensile strength can exceed 500 Newton. This kind of knotted wire metal fence enjoys innovative design , firm structure , flat surface, uniform opening, good flexibility and long service life. Even the cut parts will not loosen or deformed. Its excellent corrosion resistance and anti-oxidizing property exceed common steel wire mesh. The field fence is forever firm once installed, the users need not worry about the breaking of welding spots by using of welding wire mesh.
Type 2: Buckle Type Field Fence:
Material: High strength galvanized steel wire .
Weaving & Features: Made with galvanized buckles and steel wires, offering reasonable structure, nice outlook, high strength, excellent corrosion resistance. Suitable for fencing of the grassland and protection of biological projects.
| | |
| --- | --- |
| | |
| Livestock Fencing: Horse Fencing | Livestock Fencing: Cattle Fencing |
| | |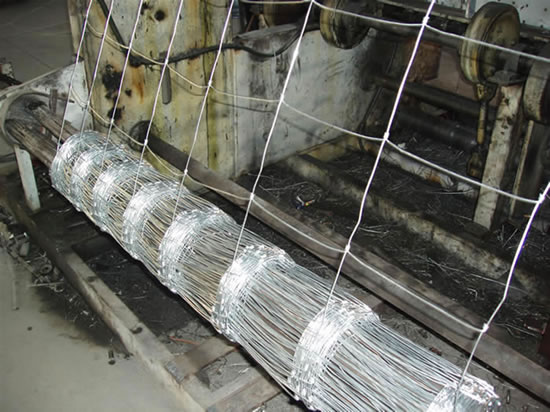 Sheep Fencing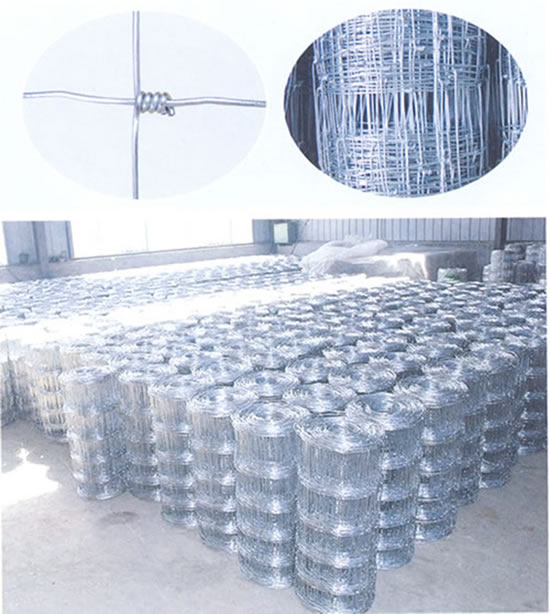 High Tensile Strength Deer Fencing
Why Field Fence instead of Welded Fence or Other Types for Horse Fencing and Other Livestock Fencing?
Field fence when used for livestock fencing enjoys the following features compared with steel barbed wire fences , electric fences and welded mesh fences:

·Made with high strength galvanized steel wire, offering high strength against the violent clashing of horses and other animals to ensure the safety;
·Steel wire treated with galvanizing, other fencing parts are all corrosion and rust resistant materials, the mesh fences can serve more than 20 years under natural environment;
·Weft fencing wire is pre-crimped to strengthen the flexibility and suitable for heating and freezing condition of the natural environment, Hence, the fences can keep firm all the time.
·Simple structure, easy maintenance, short installation period, less weight, easy transport and good ventilation.
Uses: Field fences are mainly applied to fencing of Grassland construction, livestock breeding , forestry, tourism area, isolation of hunting area and construction sites. Fences for bears and bison at wildlife parks, elephants in zoos, dairy complexes, llamas, ostrich, pheasant, ferrets, sheep, goats, etc. We offer a complete service of commercial fence materials for raising livestock.
Field Fence Used as Deer Fencing:
We offer deer fencing, horse fencing and livestock fencing made of chain link, welded mesh fence and field fence. Field fence with graduated mesh is the most popular deer fencing material.
Field Fence Used as Horse Fencing:
When considering horse fencing, safe, secure, durable and attractive are key factors.
It is important to design fencing systems as a part of the overall farm plan. Labor, safety, and initial and maintenance costs must be considered. Aesthetics and tradition play important roles in the image of the farm.
We can supply well designed and well built horse fences made of knotted wire field fence. Also galvanized chain link fence or plastic coated chain link fence.
Fence heights, length and wire diameter can be customized.